Fly Fishing for Redfish in Louisiana
Thoughts on Preparing and Executing a Trip to Fly Fish for Redfish
by Chris N • November 06, 2023 in Fly Tying Videos, Fly Fishing Travels, Fly Fishing Tips and Techniques
---
Redfish thrive from Texas to the Carolinas. We recently spent several days fishing near Port Sulphur, LA, which is about an hour south of New Orleans. This area is across the marsh from Hopedale, LA; another popular Redfish destination about an hour from NOLA. We experienced a range of what saltwater sight fishing can be. We left wanting to stay longer and vowing to get back as soon as possible.
Why a Fly Fishing Trip for Redfish in October or November?
Ultimately, we wanted a saltwater fly fishing trip that would check the following boxes:
A trip that we could do in 3-4 days, including flights
To maximize our fishing days, we wanted to stay in the US and preferred a direct flight
Sight fishing was a must
Highly desirable was the opportunity to at least see and cast to some big fish
It turns out that a Redfish trip to New Orleans checks all these boxes. We settled on an itinerary that put us into NOLA on a Saturday afternoon. We didn't account for the wait at the rental car agency, which we should've known given that LSU and Auburn were playing that day. Even with this slight delay, we had plenty of time to get settled and have dinner.
We fished Sunday, Monday, and Tuesday. On the final day, we were off the water by 3p and able to make a 7p flight departing from NOLA.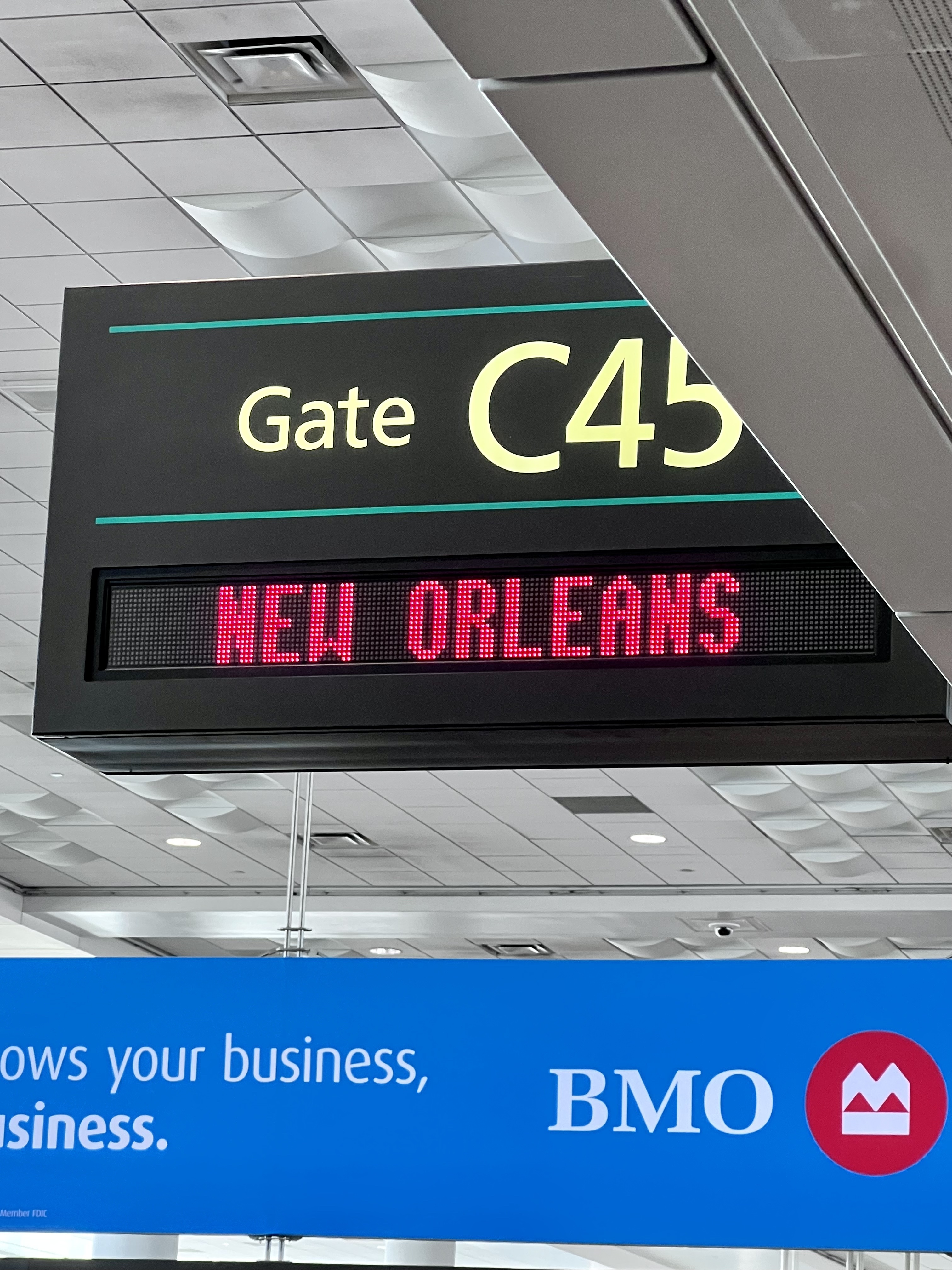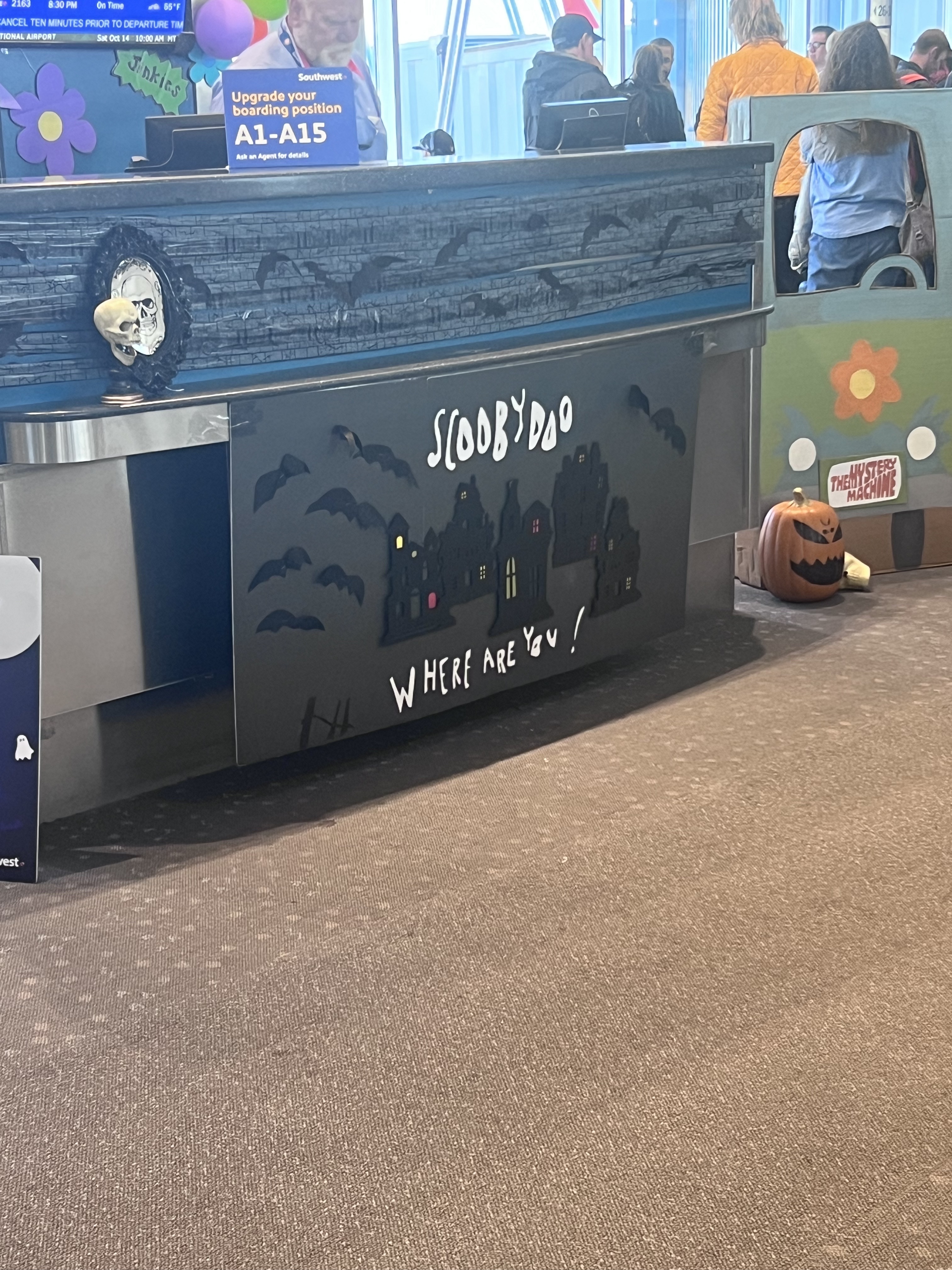 While the time of year has some flexibility, the big Redfish – called Bull Reds – move inshore during the Fall. Anglers can target these monsters during the Fall while standing on the casting platform of a boat cruising shallow water (sometimes inches, but no more than a few feet) looking for fish to cast to – just what we were after! While we're told that the peak is typically November, we were pleased with the number of sizeable fish we encountered during mid-October. It is interesting to note that a "Bull" Red is a reference to the size of the fish rather than the gender. A fish measuring more than 30 inches is a "Bull" while anything smaller is a "Slot" Red. At least in Louisiana…we will be curious to learn if this terminology holds in Texas and the Low Country.
Thoughts on How to Prepare for a Fly Fishing Trip for Redfish
Lodging and Guides
We've included our packing list with a few notes at the bottom of this post. Even before packing, however, reservations – especially during Fall peak fishing – are advised. We typically try to DIY as much as possible on fishing trips. For a mix of reasons, ranging from food to lodging, we heard prior to our trip that a DIY approach would mostly likely require us to stay in New Orleans. While we might consider this option during future trips, we opted to stay as near to the fishing as possible on this trip. At the recommendation of a current customer and previous guide in LA, we ultimately booked several nights at The Woodland Plantation. We can't say enough good things about Woodland. They arranged our guides, fed us exceptionally well, and they did it all with ease. It was apparent from the beginning that they have a system…and they execute it very well. Did we mention the food? For a flat, daily price we opted for the add-on meal plan. We were fed a full sit-down breakfast (eggs, bacon, shrimp and grits, yogurt, fruit) and a five-course dinner (crab cakes, gator sausage gumbo, salad, mahi mahi with lump crab and butter sauce, peach cobbler with ice cream). For lunch, they provided a sack lunch (ready and waiting at breakfast) for us as well as our guide.
Fly Casting for Saltwater
We spend most of our days fishing for freshwater species. We enjoy hopper-dropper season and the numerous hatches during the spring and summer that allow us to target fish willing to take a dry fly. That said, we spend a lot of time nymphing. While very productive and enjoyable, nymphing – thankfully – does not require either long or accurate casts. To prepare for the salt, we spent several months prior to our trip casting almost daily at a park. These weren't marathon sessions; some days we only had ten minutes, while other days we were able to cast for 30 minutes. We started this routine with a small piece of yarn attached to our leader. We eventually moved to casting with a size 2/0 clouser with heavy dumbbell eyes (with the hook cut off). Our goal was to be able to consistently cast 40-60 feet of line accurately with minimal false casts. While there is zero chance anyone would accuse is of being great fly casters, we definitely improved. This served us well.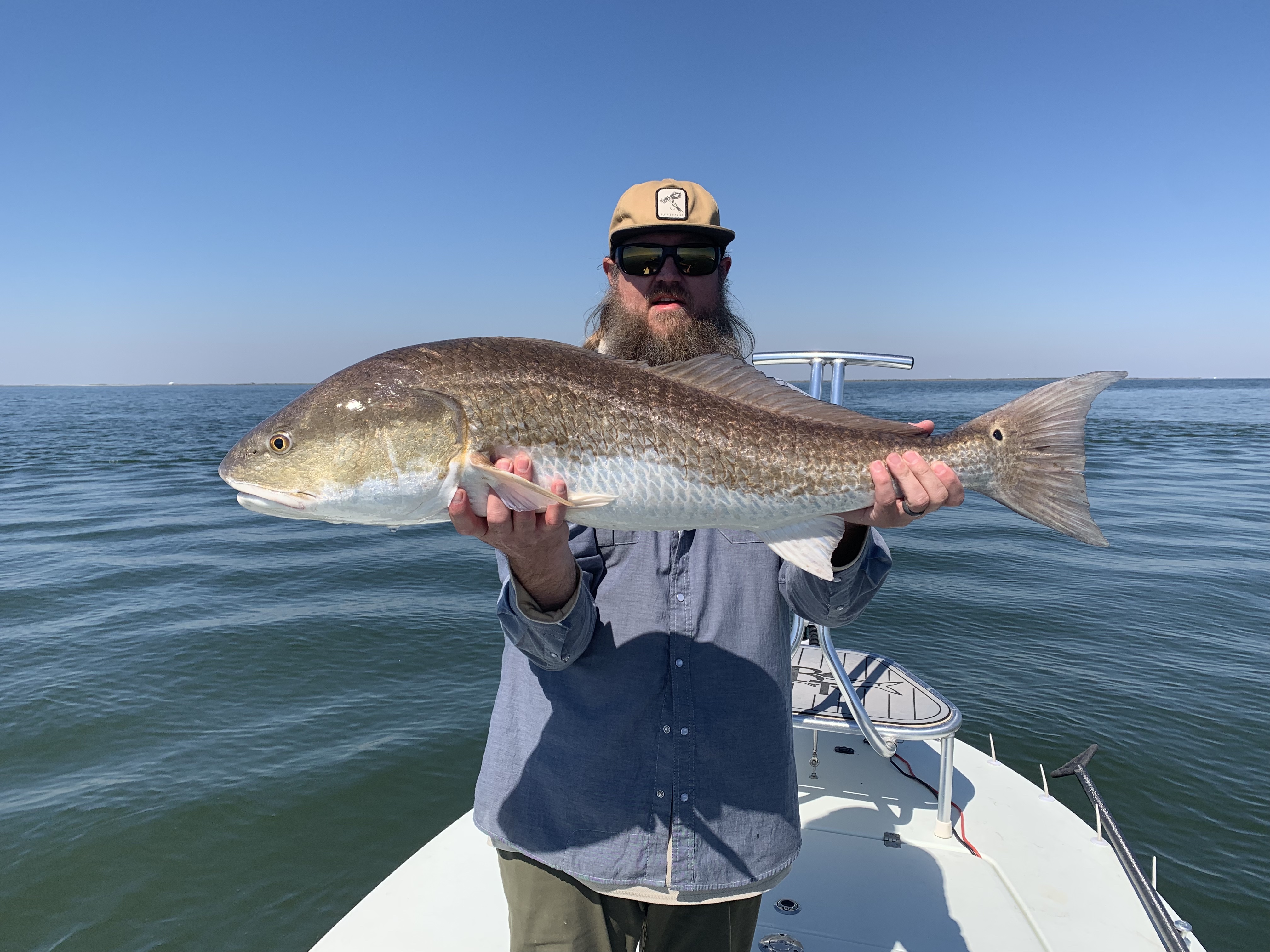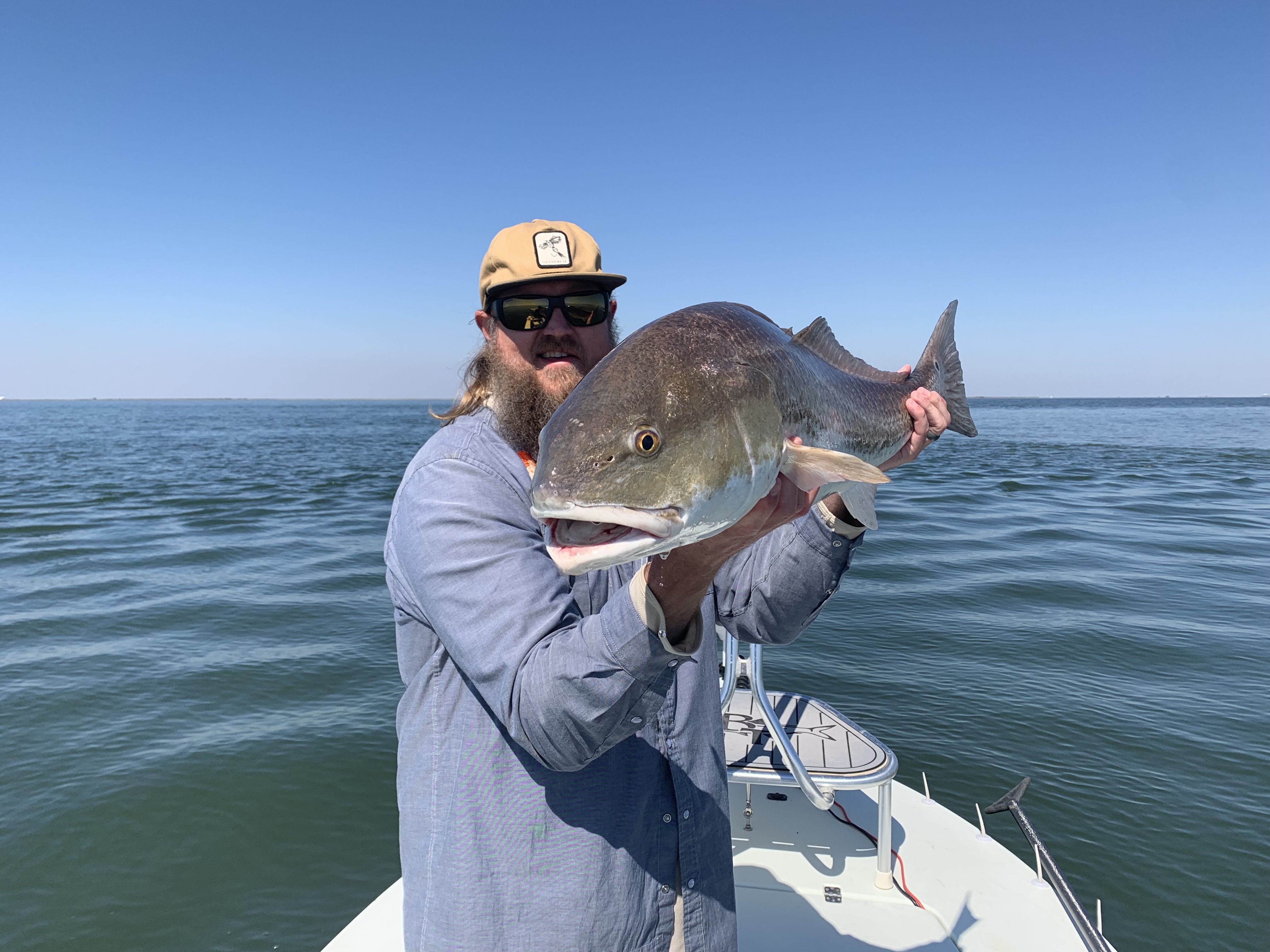 Fly Fishing Flies for Redfish
Despite the fly boxes we prepared, we were fearful that we didn't have the "it" fly. Based on our experience, however, when these fish are "on" they are aggressive eaters. Patterns with either a Craft Fur or Polar Fibre tail and heavy dumbbell eyes tied on a size 1/0 or 2/0 hook are the beginnings of a successful Redfish fly. If we had to limit our fly box to only a few patterns, we would take the following:
Hopedale Crab. We've seen this fly referred to the only fly needed to catch anything that swims in Louisiana waters. This proved true on our trip. We caught Redfish, black drum, and even hooked a Jack on this fly. Depending on water clarity, all colors fished extremely well. There wasn't a clear winner with respect to color; rather, we needed all colors (Chartreuse/White, Purple/Black, Olive) to adjust to the water clarity. But, the fly itself – the design – was "it." You can read more about tying this fly here, including a few substitute materials that we found work well in the event you can't find the original materials.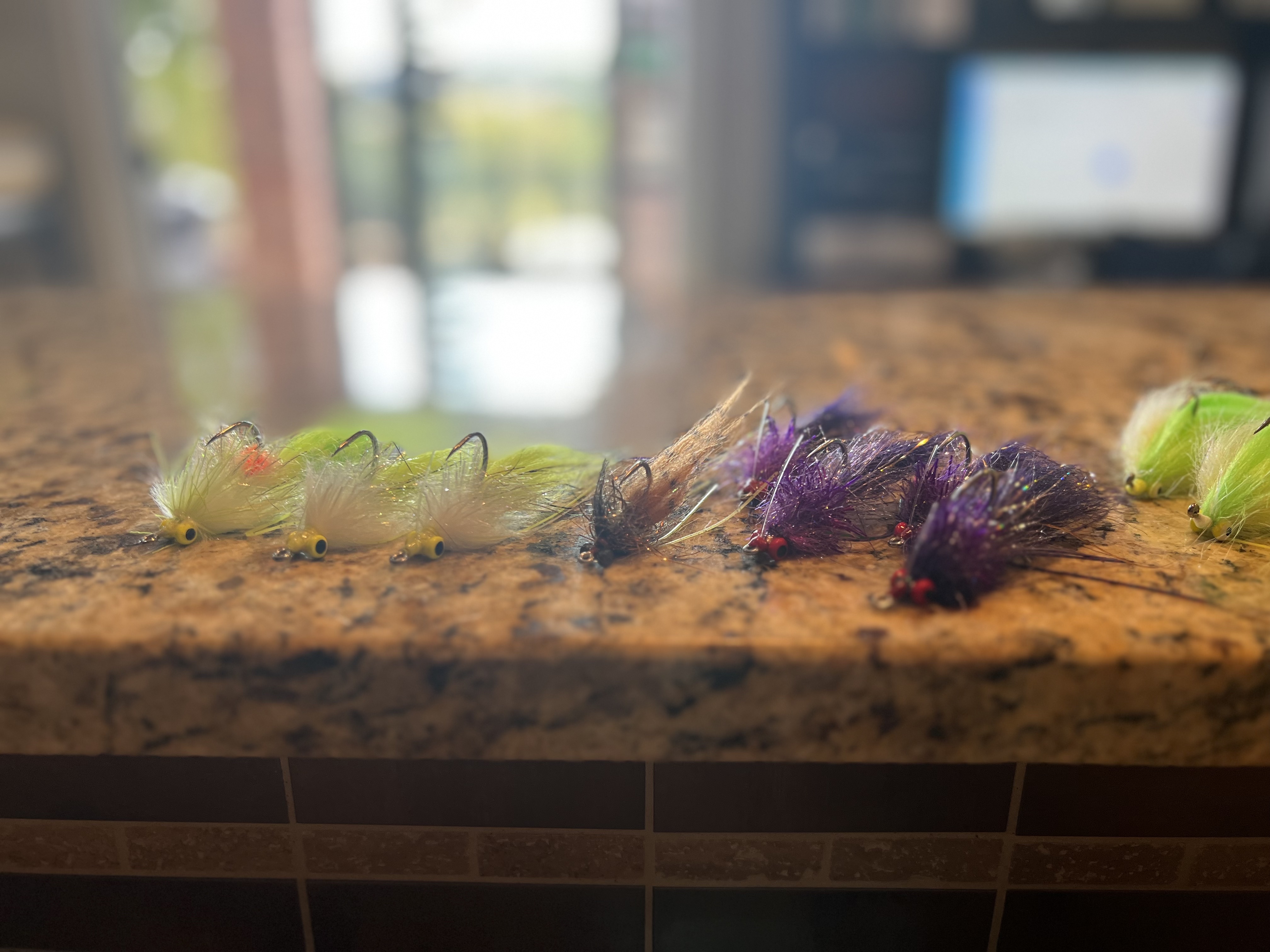 Po Boy. This is a fly that we will be introducing. Again, we used Chartreuse/White and Purple/Black. Simple, quick to tie and a deadly profile.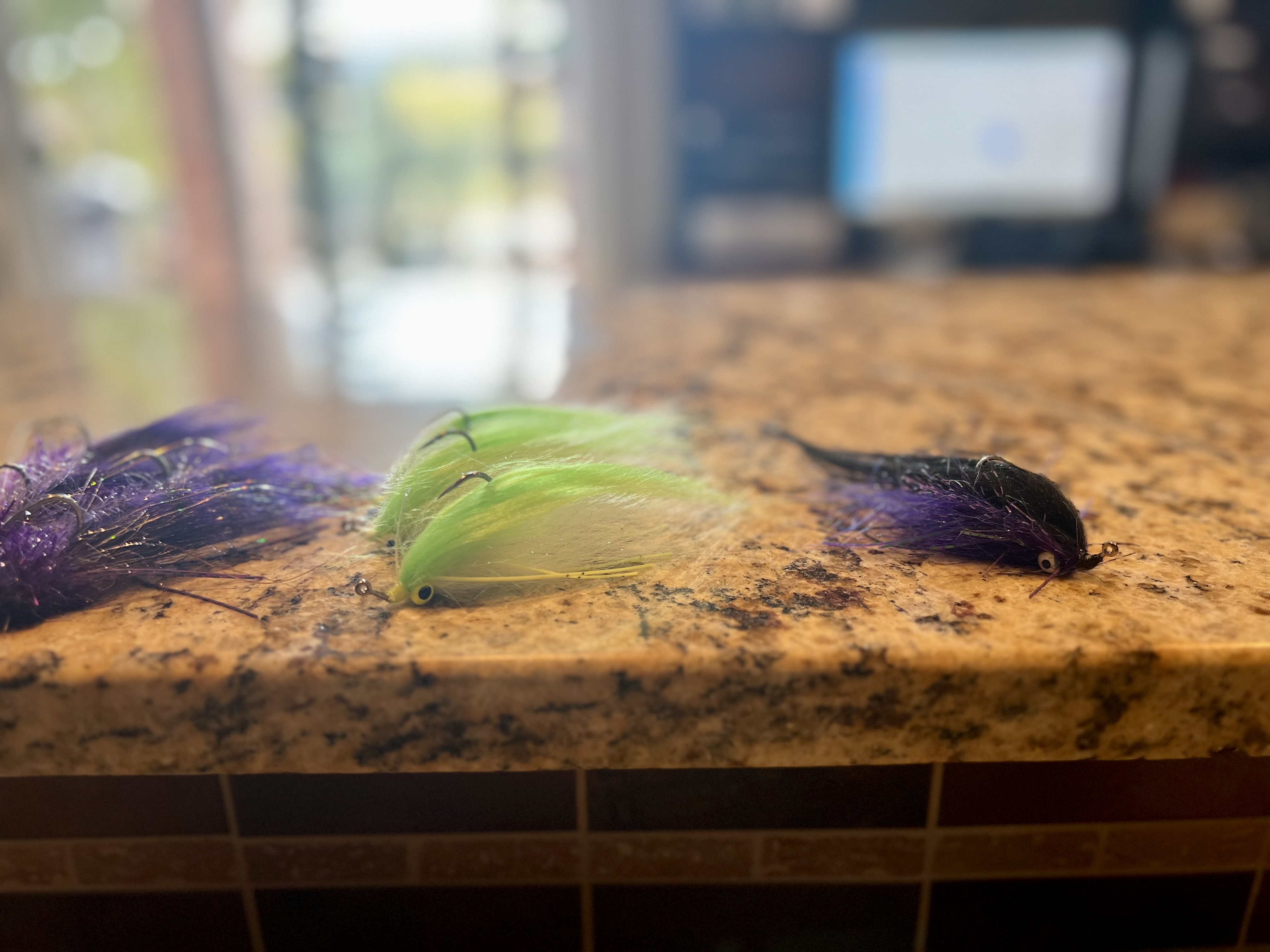 In general, big, heavily weighted flies in colors ranging from olives and blacks to purples and oranges seemed to work. Flies that were suggestive fished very well. We had a lot of fun tying for this trip!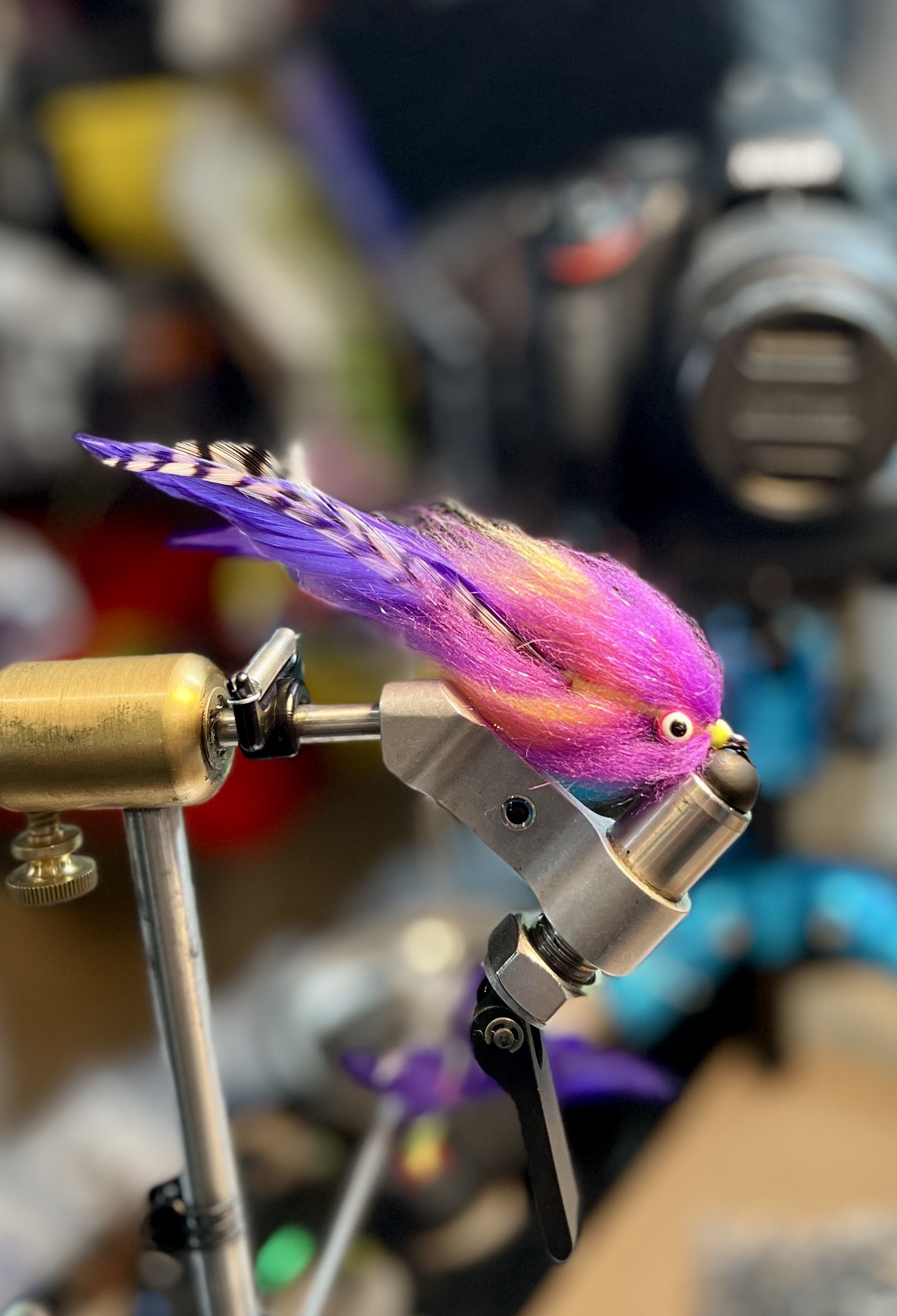 When we encountered picky fish, neither presentation nor fly pattern seemed to matter. That said, we will still take a fly box of at least 6-8 patterns in various sizes in each of the following categories in sizes 1/0 and 2/0 on our next trip:
What to Expect Fly Fishing for Redfish
We saw a large swath of what saltwater fly fishing has to offer during our three days – difficult weather (read "wind"), difficult water conditions, difficult light conditions (overcast), spooky fish, picky fish, beautiful weather, and hungry and willing fish.
Our first day was windy, which also meant that water visibility was poor. The sun was, however, high in the sky for most of the day. All of these factors together ultimately meant that fish were difficult to see from a distance. We moved slowly and were able to spot plenty of fish, although we also spooked quite a few. When we were able to spot fish, however, they were willing and eager to eat!
If the first day was windy, Day 2 was W.I.N.D.Y. Two consecutive days of wind also meant that the waves created murky water conditions. What was tea-stained water on day one turned to chocolate milk by noon on Day 2! While we were able to find some areas that were protected, the sun did not cooperate. We managed to find cooperative fish, but we encountered numerous fish that were either spooky or unwilling to eat. Regardless, we searched for fish all day. Although the weather impacted the number of hookups, the adrenaline and anticipation of hunting for fish, spotting a few, and casting to them could not be deterred by the elements….we had a great time!
On the final day, there was an occasional breeze, no clouds, and the sun was bright. It was, hands down, a perfect day for sight fishing – we couldn't have dreamed for a better weather day. We could see the fish and the fish were eager and willing. What a day!
A Few Things We Learned About Fly Fishing for Redfish
Weather. It is going to happen. Dealing with it means a couple of things. First, be prepared to cast in windy conditions. If you practice regularly prior to your trip, you will likely have an opportunity to cast into the wind. We tried to practice for longer periods on these days. Second, fishing over multiple days increases the odds that you'll encounter at least one good weather day. Finally, for us, it meant accepting and being mentally prepared to spend the day putting in a lot of effort casting, staying focused and engaged on finding fish, and being willing to move around.
Could we DIY? Yeah, I think so. That said, we really enjoyed Woodland Plantation! If we were going to DIY, we would be focused on finding an AirBnB close to the boat ramp. We'd plan to eat breakfast at the AirBnB and pack lunches. Dinners would probably be seafood at one of the many options that seemed available. Unknowns – like a major LNG construction project – can cause unexpected traffic, even on remote roads. We would also expect to book guides well in advance in order to find consecutive days. This would take some work, but not impossible. We'd also probably ask the guide(s) when booking if they had suggestions on were to stay.
Casting. We were very happy that we practiced as much as we did. As we prepare for our next trips, we would add the following to our practice sessions:

Short casts – and accurately! Probably less important for bonefish or permit, but short, pinpoint casts of 8-20 feet were common. Being able to do this with one false cast and a heavy fly was important.
Back hand casts. If you are a righty and can cast lefty, do that. Otherwise, practice casting backhand. Imagine standing on a casting platform with the "12 O'clock" position off the tip of the boat. The guide, then, is poling from the 6 O'clock position. When the guide's instruction is "30 feet 10 O'clock," a righty will have no problem making this cast. If, however, the instruction is "30 feet, 3 O'clock" a righty will have a difficult time with this back cast over their right shoulder without potentially piercing the guide. The answer is a cast toward your left ear and over the left shoulder – a backhand. This happens frequently. Be ready for it.
Practice casting using the same flies – especially size and weight – that you expect to use on your trip. For practice, we put a loop at the end of our leader. We rigged three flies – unweighted, bead chain eyes, and dumb bell eyes – using a non-slip loop knot to the fly with 5-6 inches of tippet. On the other end of this tippet, we tied another loop knot and then used a loop-to-loop connection to change flies easily during our practice sessions.
Destinations for Redfish Fly Fishing Trips
In the short time since our return, we've been daydreaming about our next trip. While Louisiana tops the list, we are also very interested in Texas (Padre) and South Carolina (Charleston). We've heard that a DIY approach is easier to execute in these locations. That said, I think the lessons we learned – everything from casting to booking early – will serve us well wherever we go next.
Redfish Habitat and Conservation
We learned about several challenges facing Redfish, especially in Louisiana. While we don't have a comprehensive and deeply educated view on all the issues, we learned enough that we wanted to get involved. As a result, we were able to contribute to the following organizations that are working tirelessly to protect these amazing fish and the habitats in which they live:
Thanks to the guides that turned us on to these organizations!
If you have any questions about planning a trip for Redfish – from flies to guides to locations – please don't hesitate to give us a ring.
Here's Our Packing List for Fly Fishing for Redfish:
Cash for Tips (paid daily)
Rod – 9 wt
Reel with a solid drag, loaded with a WF floating line.
Flies
Leaders (30 or 40 lbs) – not picky, but we fished a 40 lbs, 10 ft. A common leader seemed to be 4 ft of 40 lbs to 3 feet of 30 lbs.
Pliers – a must, in our opinion, but no need to spend an absurd amount on pliers
Waterproof backpack – or drybag – for the boat to store a jacket, sunscreen, flies, and anything else.
Sunscreen
Polarized glasses
Sun gloves
Fishing license (we did the three-day option)
Waterproof Jacket (we threw this in last minute…and very grateful we did! In addition to the possibility of rain, longer runs on the boat to start day or during the day can be wet and cold).
Long sleeve sun shirt
Fishing shirt
Vest (we were glad to have a down vest, which was perfect during the day)
Pants and shorts (we wore pants during the day on the boat)
Beanie – we wore a beanie during the longer boat rides and very glad we had it along!
Billed hat
Water bottle (to reduce plastic use, several guides have big jugs of water. Having our own water bottle to re-fill was handy)
Travel mug for coffee (we liked filling up on coffee before meeting a guide for the day)
Chargers
Photo equipment, if applicable
Sandals
Deck boots – highly recommended, but sneakers would work
---
overall rating:
my rating:
log in to rate
Please log in to leave a comment.