5 Benefits Of Buying Flies Online
What are the Benefits to Buying Flies Online?
by Chris Nielsen (Admin) Admin • May 15, 2020 in Writings by Our Customers
---
Written by Zach Buchenau:
5 Benefits Of Buying Flies Online
These days, despite the prevalence of online shopping, for many anglers, the idea of buying flies online never even enters their brain. Call it a habit or just procrastination, restocking their fly box at the local fly shop is one of the last things they do before they hit the water. Unfortunately though, as you've probably experienced, this last-minute tradition often leads to, overpriced, or worse, low-quality flies. It can also mean reduced selection, especially on those few hot flies everyone wants. The good news is, if you're looking for a better alternative, buying flies online is just the ticket.
In fact, for the rest of this article, I am going to cover five of the main benefits of buying flies online. So, if you're a little skeptical about placing an order for flies, or if this is just your first time doing so, keep reading.
1. More Affordable
As any die-hard angler will attest, when your fly box is empty, you're only minutes from your first cast of the day, and you're standing in the last-minute fly shop, you'll pay just about any price for flies. And, trust me, that's exactly what you'll have to do. I mean, it's not like you're going to hop back in the car in search of a different fly shop and risk missing those early morning risers. Not a chance! What you will do is dip way too far into your wallet for flies you could have gotten for half the price. On the other hand, you could just buy your flies online a few days in advance, and pay a much lower price. Seriously, in most cases, you will spend pennies on the dollar. That means more fishing for less money.
2. Consistently High Quality
One of the best benefits of buying flies online is that you know what you're going to get when you place an order. As opposed to buying flies from multiple fly shops, which can be hit or miss, the quality of flies you buy online is evident in the photo. In fact, in my experience, the flies are of much better quality. Beyond that, good online dealers stand behind their flies and offer a 100% satisfaction guarantee. That way, when you place an order, you can be confident that you will receive only the best quality flies.
To put it simply, if you're tired of dealing with flies that fall apart quickly, then you should start buying flies online. Not only will you catch more fish per dollar, but with their consistently high quality, you will catch more fish per fly.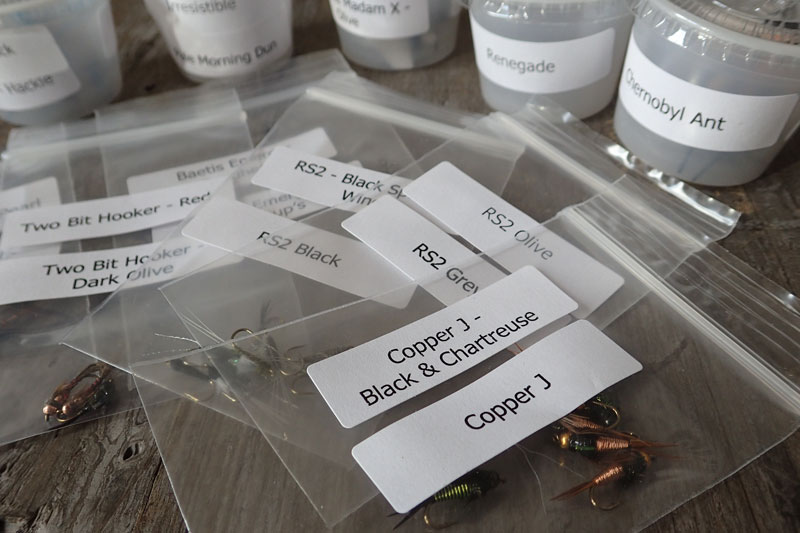 3. Bigger Selection
One of my favorite things about buying flies online is the seemingly endless selection. As opposed to walking into a fly shop, where your choices are limited to a couple hundred options, online fly sellers (ahem, like Discount Flies) typically carry thousands, or even tens of thousands of patterns.
So, whether you're looking for a common pattern like a Parachute Adams, or a slightly more obscure fly like a Firebead Soft Hackle Sow Bug, you can bet that they will have it in stock. This is particularly beneficial if you're preparing for a fly fishing trip to a different state or country. For instance, since I live in Colorado, my fly box is always stocked with a nice selection of Copper Johns, RS2s, Flashback Pheasant Tails, and all sorts of other Colorado staples. And even though I buy them online (where they're much less expensive), in a pinch, I could find them at just about any Colorado fly shop. On the other hand, if I want to take a trip to Montana -- where the fish feed on a completely different selection of flies -- I can't rely on any of the local shops to carry the patterns I need. So, you know what I do? I order them online, where I have access to just about any fly pattern imaginable.
4. Convenience
You know those nights where you just can't sleep because you're stressing about your close-to-empty fly box? (Been there.) Well, you could just head to your local fly shop at 2AM and remedy your insomnia by dropping a couple hundred dollars on a bunch of new flies. Oh wait. No you can't, because they closed at 6PM, and abandoned you in your time of need.
The good news is that you can hop on your computer and restock your fly box from the convenience of your own home. Seriously, you don't even need to waste time putting on clothes. Then again, it can get pretty cold at night, so you should probably cover-up your Wooly Bugger.
5. Frequent Promotions And Sales
Another incredibly wonderful benefit of buying flies online is that online fly dealers tend to run promotions and sales more frequently. In other words, you can get those already more affordable flies for an even better price! And since you don't have to physically drive to a fly shop, it only takes a couple of minutes to capitalize on them. Oh, and since we're on the subject, if you really want to take advantage of some great deals, you should go ahead and sign up for the Discount Flies email list right now. I've been a subscriber and customer for quite awhile, and I can tell you that their promotions and prices are phenomenal.
Bottom Line
If you're considering buying flies online, you should take the leap and go for it. Between the lower price, consistent quality, frequent promotions, huge selection, and overall convenience of ordering, there are too many benefits to ignore. And seeing how your fly box is in desperate need of some new talent, the sooner you place an order, the better.
Guest Blogger: This article was written by Zach Buchenau; an avid angler with over 20 years of fly fishing experience and the co-founder of Fly Fishing Fix. When he isn't casting a fly rod, you can find him blogging about fly fishing, or spending time with his family.
---
overall rating:
my rating:
log in to rate
Please log in to leave a comment.