The Start Of Something New
Learn with David Chao how to Fly Fish Euro Nymph Style and how to Fly Fish Streamers
by Mike Ryan • March 17, 2020 in Writings by Our Customers
---
Written by David Chao:
Well, the spring season for fly fishing is right around the corner in Colorado. I've been fishing the South Platte tailwaters from Cheeseman Canyon through Deckers throughout the winter. Denver Water has kept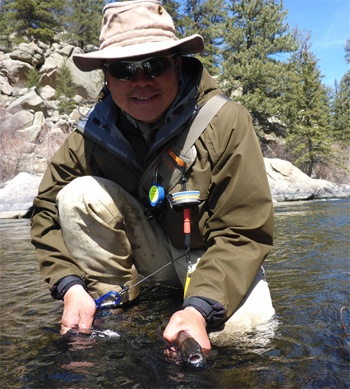 the flow nice and high and even though we had a lot of snow, the water hasn't frozen over. We have had lots of good days to fish, but also the river has been crowded.
As I look to this next season, a new style of fishing popped on my radar. I was reading about Euro Nymphing or "modern nymphing" last year. This technique is based on the various different styles of fishing based in Europe and competition fly fishing. I have to admit that while it looked intriguing, I didn't think it was that different or something I could do. I was taught how to nymph fish by a friend who had a very specific formula. It is basic nymphing with a strike indicator (bobber) to a Disnmore split shot above a surgeon's knot, with about 10-12 inches to an attractor fly, then 17 inches to the second fly. How do I know it has to be 17 inches to the second fly, because from the first guide to the hook holder on my Temple Forks Outfitter BVK was exactly 17 inches. That was how I set up on the South Platte, Arkansas, San Juan River in New Mexico, Green River in Utah.
So, reading and learning about Euro Nymphing felt a little like cheating on my fly fishing relationship. I have to admit, that I played around with my set up when my friend wasn't watching. Sometimes I went to 15 inches on the dropper!!I actually added a third fly to the rig. That was bold of me. But, euro nymphing is a different beast altogether. You can use your same equipment like a 9 foot, 5 weight and just add tungsten jig hooks, maybe a Rio Euro Leader so you don't have to make your own leaders to get started. Honestly, I was a little excited about the possibility of new gear. I love getting new flies but the a new rod/reel setup would be cool.
I also had the opportunity to learn about streamer fishing from a guide, Marcelo Caiozzi, of 5280 Angler at my neighborhood's fly fishing club. Yes, my Denver suburban neighborhood has enough fly fishermen, or wanna be fly fisherman that a friend of mine has a "club" meeting once a quarter. He brings in guides and other teachers like Mike Ryan from Discountflies.com to show us new techniques and new flies. I haven't specifically learned to streamer fish on a totally intentional basis. I caught some fish on an articulated streamer on the Green River with a guide. The rod was an 8 weight, sinking tip head fly line to a huge, articulated fly. What I remembered about the fish was the hit! It was ferocious. Marcelo said "You have to commit to streamer fishing. When you go streamer fishing, go with your streamer rod (more gear!!) and leave your nymph rod at home. " So, what was any good, self-respecting fly fisherman to do? You reach out to Discountflies.com and get set up with a 6 weight AND 7 weight, sinking tip fly line, and a whole bunch of big, beautiful steamers and go streamer fishing.
I took extensive notes from Marcelo and I know with the right training, I could catch fish on a streamer. But, I was out there on the South Platte, by the town of Deckers, throwing this (huge to me) rod and flies and not having much luck. No nymph rod as back up either. I tricked myself into believing I was "just getting a feel for the rod" and not really trying to catch anything. But, if you are like me, and I know I am, I want to catch fish all the time. If you have ever fished the South Platte through Deckers, you will know that big fish eat small bugs. I'm talking 24's and 26's. So, it felt funny throwing this big streamer the size of my fist out there. I was even using 3X tippet, which is much smaller than Marcelo said to use. But I'm used to using 6X on that part of the river. 3X looked and felt like a cable!
So, after striking out (I was just getting used to the rod anyway!) I was walking back to the car and I was watching this guy fishing a section of the river I had never seen anyone fish. It was fast moving water over a set of boulders. He was Euro nymphing. I see a lot of people of the South Platte and he was my first Euro nympher. So, I stood on the bank and watched him. I could see his "sighter" off the water and I could see how it bounced when the flies hit bottom. There were many competing currents across the river but he was able to place his flies exactly in the seam he wanted. Within 15 minutes, he caught 3-4 fish. Then, the most amazing thing happened! After releasing a nice little brown, he yelled up "You want to try??" I DID!!!
Andrew was my new best friend on the river! He said "you've been watching me, so you know what to do... try it". I took a position near the top of the run, and after about 5 casts, I had hooked a nice 14 inch brown. Just like that!!! The rod was super sensitive and I could see how my flies were hitting the bottom. I would have taken a long time trying to figure out what weight to use to fish this with a traditional nymph system.
After that one fish, and 3 minutes, I determined that I had to make a choice. Do I really go all out and learn to streamer fish, or do I go all out and learn to Euro Nymph? With a new season, I've decided that I'm going to get proficient in either Euro Nymphing or Streamer fishing this year. Here's my idea and I hope you'll join me on this little adventure. Sometimes you just have to try something new.
So, I'm going to research the heck out of streamer fishing and euro nymphing. Since I now have a dedicated streamer set-up, I'll focus on everything needed for Euro Nymphing for now. I'll look from the gear to the flies and go through my thinking for everything I pick. It will be like starting over from what leader to use, to what flies I should start with and how do I even do it? I'm thinking of going with Marcelo to streamer fish and then go with someone who knows how to Euro Nymph. I'll share what books I'm reading, or videos I'm watching to see if this is something you want to try as well. Ultimately, I hope that we can learn something new together! Check back for updates on this journey!
---
overall rating:
my rating:
log in to rate
Please log in to leave a comment.