Day 1: Learning to Euro Nymph
What Is Euro Nymphing?
by Mike Ryan • , in Writings by Our Customers
---
Written by David Chao:
If you have been following my journey, you will know that I have embarked on two missions. Learn to streamer fish and learn to euro nymph. I have the gear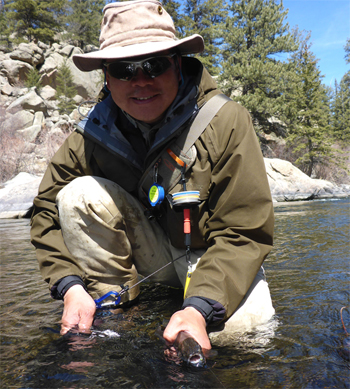 (because you always spend money first) and now I have to figure out how to do it. I elected to go with euro nymphing first. No particular reason other than catching a fish quickly the first time I tried it. First place in my education was Youtube. There are a ton of great videos on euro nymphing. I watched all of Lance Egan and George Daniel's videos. Look them up on Youtube because they have the most complete and educating videos on the topic. There are some other really fun euro nymphing videos but maybe a little less serious but quite humorous.
Also, I used an old fashion DVD player and watched Modern Nymphing by Devin Olsen & Lance Egan and their new video Modern Nymphing Elevated. The good news is that you can stream them on Vimeo if you don't have a DVD player anymore. I had to use one that we used to leave in the car for the kids to watch it.
Finally, I took a lesson from a local shop. Not everyone has a Euro nymph guide or class. Here in Colorado, we have a shop that offers a class on Euro Nymphing. It is not a guide service but rather, an actual lesson. It was about the same price as a guide for the day but we focused solely on euro nymphing. The first thing we learned to do was to tie the mono leader. This is really the heart of euro nymphing. Since most of the fly line stays on the reel, the long mono leader is what makes euro nymphing work. There are lots of ways to tie these leaders. First, make sure you can tie the knots. The blood knot is used most often in tying the euro leader. The second is the one our teacher encouraged us to use, which was the double-uni knot. You will tie several lengths of monofilament line, of different colors so make sure you know these well.
You are supposed to use a certain amount of line, for a certain amount of feet and use materials called "sighter" material. EVERYONE has their own different formula of how much to use and what color. I'm not going to try to explain it here. The basics materials you will need include Maxima Chameleon, Rio or Scientific Angler Sighter material, a tippet ring and tippet. DiscountFlies carries all of the different mono lines, sighter material that you need. Here is a great link to George Daniel's Basic European Nymphing Line and Leader Setup:

I also love Lance Egan's "How to Make the Lance Egan Euro Leader" video:

If you aren't sure if this is for you, I have a few ideas. One, Rio makes a leader called the Rio Euro Nymph Tapered Leader, as well as the Rio Technical Euro Nymph Tapered Leader. Both leaders are an inexpensive way to use an extra-long, ultra-thin leader that is super sensitive to any strike. You can also go with the RIO Euro Nymph Shorty which is a thin fly line that can be added to your regular fly line. It is lighter than your normal fly line and therefore won't sag using the euro technique.
After spending about an hour learning about leaders and tying our own, we moved onto the water. That's where the magic really began for me. Because Deckers, Colorado and the South Platte are my home waters, I feel like I know the water pretty well. We walked from the parking lot to an area that I had fished often with some success. However, we didn't fish the tail out, but among rocks and faster water that I would have walked by. We fished them and my partner caught a fish right away. It was going to be a good day. There is much to learn about the angle of the sighter and how to guide the flies through the water. But I can tell you, the several hours we were on the water went by really quickly. You are paying attention to so many different little things, angle of the line, the movement of the sighter that you are completely engrossed.
The key is the leader that you tie to get started. Then, it is all practice. My first day really euro nymphing was in mid-March. I have fished almost every weekend since then (even during Covid) and I used my 5 wt beloved TFO BVK rod only once!
This has been quite a learning experience and catching fish just makes it that much better! Stay tuned for more!
---
overall rating:
my rating:
log in to rate
Please log in to leave a comment.