A Neighborhood Fly Fishing Trip
Neighborhood Fly Fishing Group
by Mike Ryan • November 11, 2020 in Writings by Our Customers
---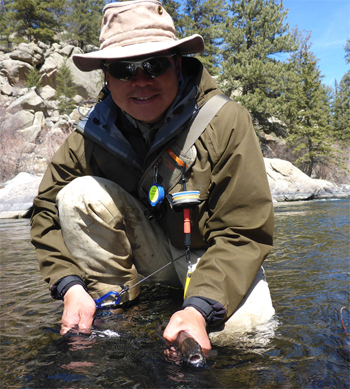 Written by David Chao:
I live in your typical, suburban, covenant-controlled neighborhood in Colorado. We look like every neighborhood out there. A couple of different style houses and lots of different paint colors, but mainly all the same. The one thing that makes this neighborhood unique is that we have a fly-fishing club.
Yup, we have a group of people that meet once a quarter to talk and learn about fly fishing. Anywhere from 5-10 people will show up. Organized by Don, he is a high school teacher. You wouldn't be surprised to hear that his first session was about how to find fish in a river, complete with a power point presentation! I took notes in case there was a test. We have had other sessions with guides from 5280 Angler and our neighbor Jeff Powles, owner of FishOnColorado.com teaching us how to streamer fish and how to fish the Upper Colorado. We had planned a trip in the spring to take all newbies and beginners fishing but Covid hit and well… that put an end to that.
We planned another adventure for the fall to the Miracle Mile in Wyoming which was to include camping. However, we had to change plans at the last minute because the daytime temperatures were going to be in the teens and the nighttime temperatures were to be in the single digits. We like to think of ourselves as a hardy bunch but with temps like that, we weren't that hardy. So, we had a Zoom video conference, examined weather forecasts, wind reports, fishing reports, river flows and decided we would fish the Eagle River near Gypsum. We would camp right on the river in a paid campsite and fish until the weather front came in on Sunday.
We tried to keep the planning details to a minimum. Basically, you were responsible for your own food, shelter etc. Since everyone was going to arrive at different times, and we weren't sure how crowded the campsite was going to be (it wasn't) some of left early and others later. Jeff P. had a friend staying at the campground, Calvin, and he saved spots for us. We quickly adopted him as part of our group. He is a student, taking online classes and fishing every day.
After a fishing supply run to Discountflies.com in Parker, even with the change in rivers, we all felt pretty prepared and drove out to Gypsum on Friday. Once we got there, it wasn't long before we all changed into waders and got on the water. The day was partly cloudy but warm. The Eagle River holds some nice big fish with bad attitudes and put up quite a fuss when you put a hook in them. David L. broke the ice quickly by getting into a fish at the tail end of a nice long run. Then Tom got into a nice fish near that same spot and the weekend was on!!
On Saturday, we fished further upstream of our campsite near a set of ponds in Gypsum. You could tell by the parking lot that this was going to be a crowded river day. A little combat fishing was in order and some long walking ahead. We were a motley crew. We ran the range of experience from Jeff P., who probably gets 150 days a year on the water, to guys who haven't fished in several years. But, when you are all together, you root for each to catch fish, pass on whatever little knowledge you claim to have and hope that everyone gets into a fish, or at least gets a bite.
Does everyone else forget to eat lunch like we did that day? It just seems that you "think" you will walk back to the car for lunch and then by the time you are hungry, you are too far from the car to walk to the car and then back to the spot you were fishing. So, I almost always forget to eat lunch, or pack a snack to eat. We got back to the campsite later in the afternoon and ate a late lunch. Some of us went out to fish again because we had full bellies and still wanted to get into some fish. We didn't catch more, but how can you complain about being on a beautiful river, with great weather and good friends?
Jeff made dinner that night. All I can tell you was that it was restaurant quality cioppino and 3 bowls later, my stomach was full, and I was very happy. We didn't have a fire due to restrictions, but we didn't really need one. Our evenings were filled with Wade's guitar playing and various whiskey and bourbons being consumed. Plenty of cheap beer was consumed by all and a few cigars were smoked.
The weather held that night and we didn't get the intense winds we were expecting. In fact, ahead of a nasty weather front, it was quite warm. On Sunday, with the weather report being quite ominous, a few of us packed up and headed down the mountain to Denver early to avoid the weather and the traffic. A few of us went back to the river for a few more hours of fishing and a few fish were had.
I don't think I will ever grow tired of watching someone catch a fish and I certainly won't grow tired of seeing the smile on their face and the excitement in their voice from catching fish. Even people who regularly catch fish, you can still see their excitement and happiness. If my joy in fishing becomes contingent on the size of the fish I catch, or even if I catch fish, please gently remind me, or tell me to quit.
We all checked in at various times on the drive back giving road and weather reports. Thank goodness for group texting. As I pulled into our typical suburban neighborhood, I smiled. I knew, our neighborhood was just a little bit different from all the other neighborhoods. We have a fly-fishing club, run by a teacher, taught by a guide, and an amazing group of people to stand with in the river.
The Group: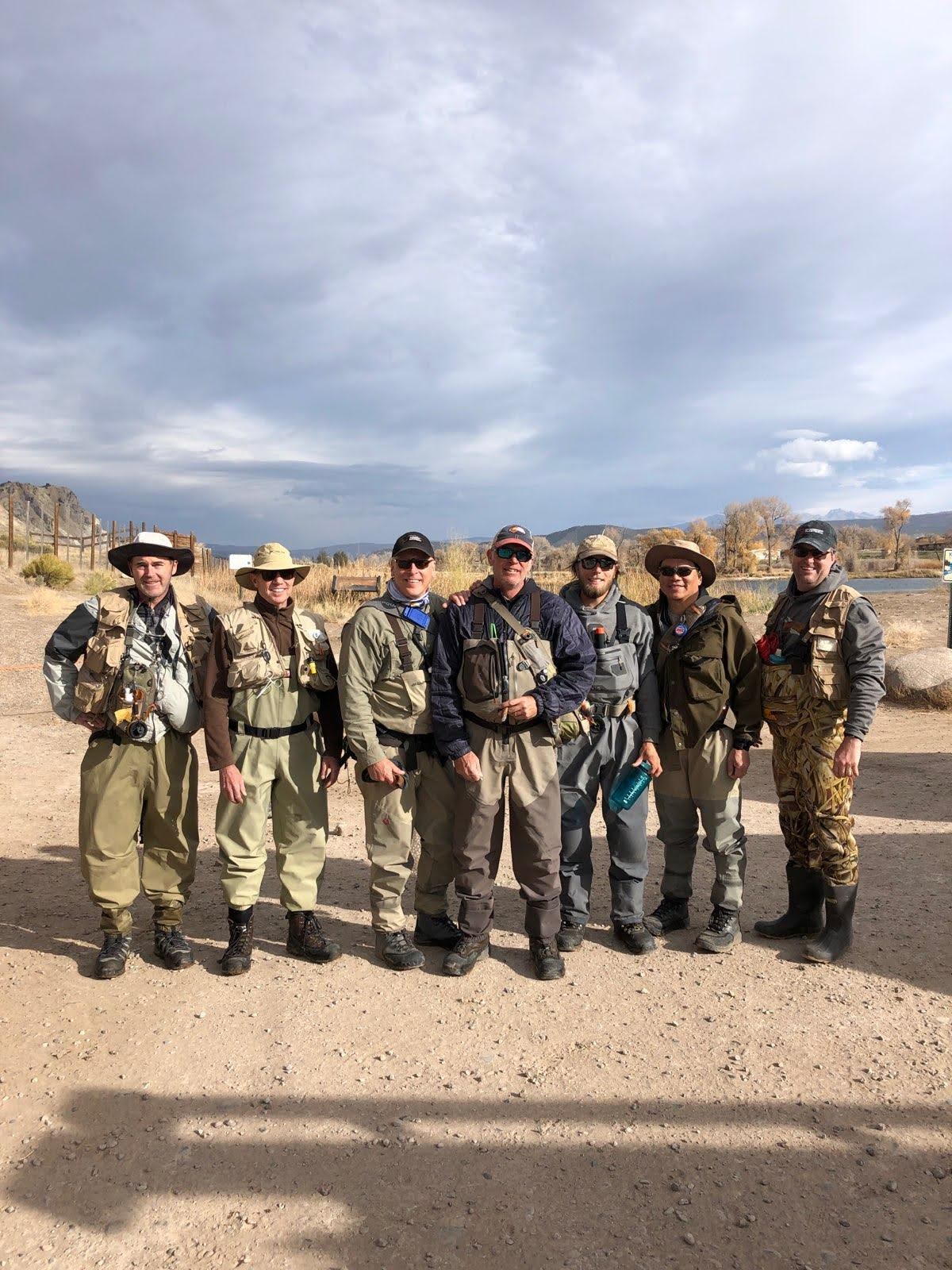 Left to Right: David LaValley, Wade Sutton, Don Girard, Jeff Powles, Calvin Cirrincione, David Chao, Tom Price.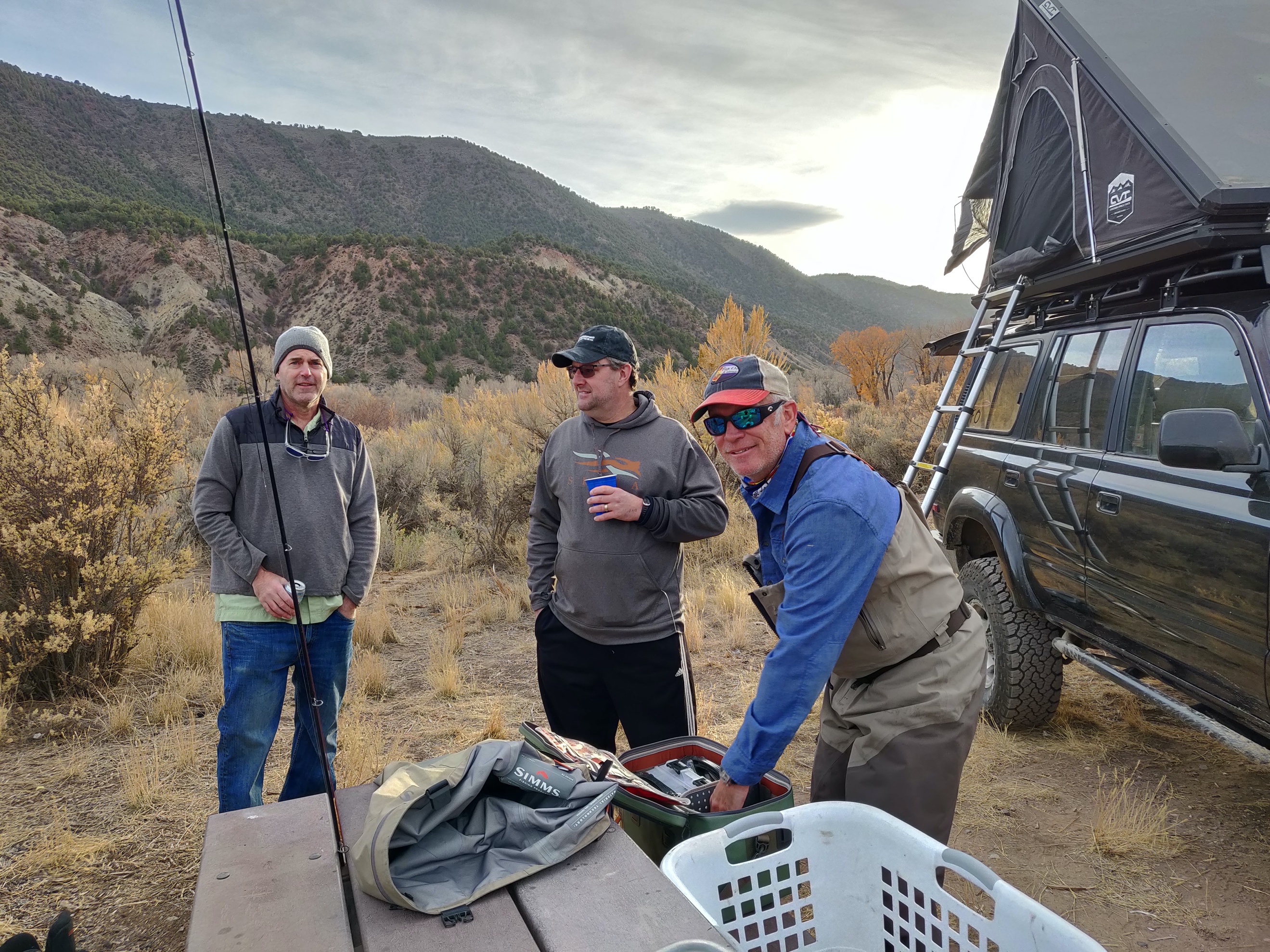 David and Tom already caught their share on Friday, they left some fish for Jeff to catch. (Photo by David Chao)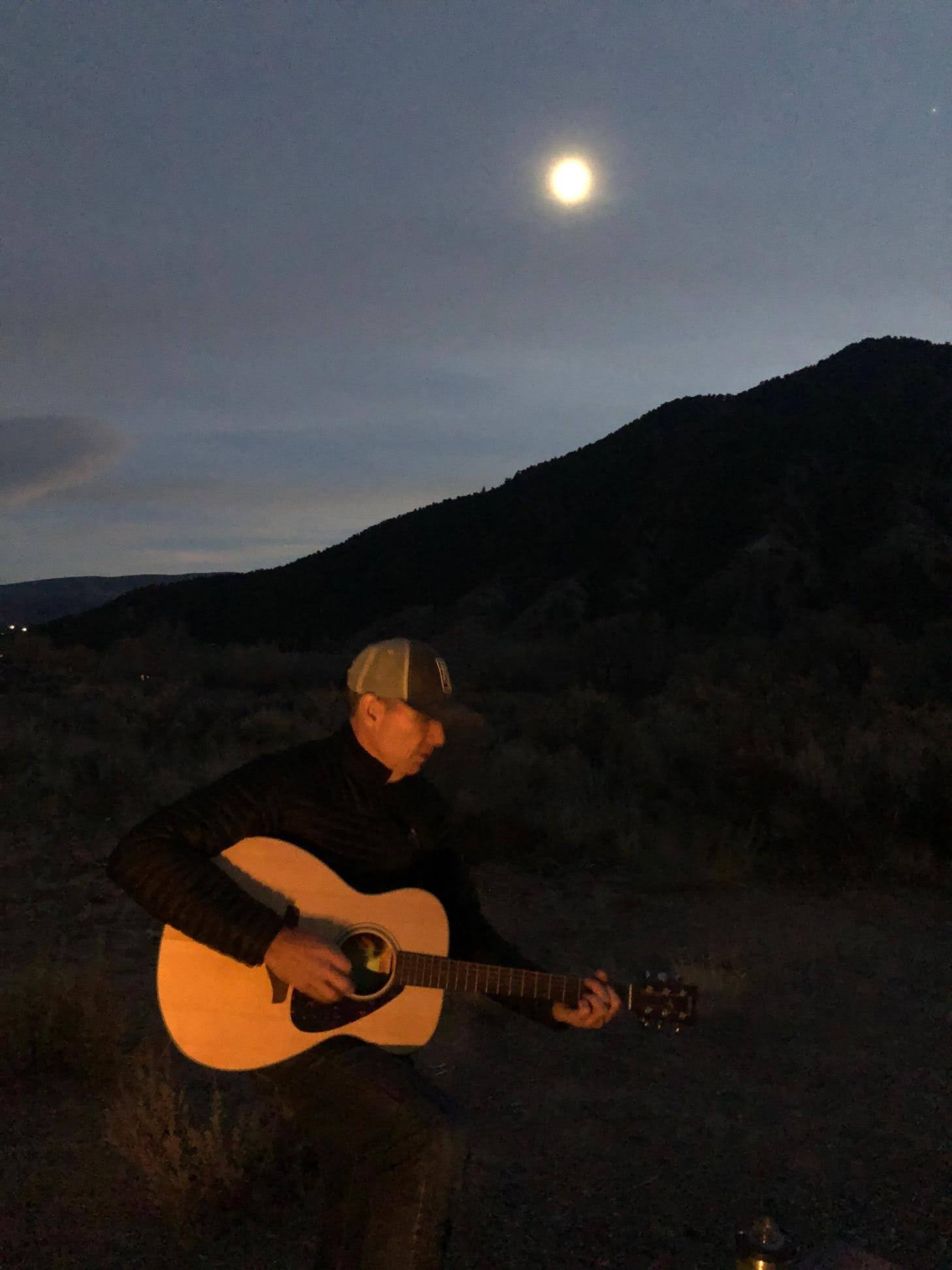 Wade Sutton entertaining us each night (Photo by Don Girard)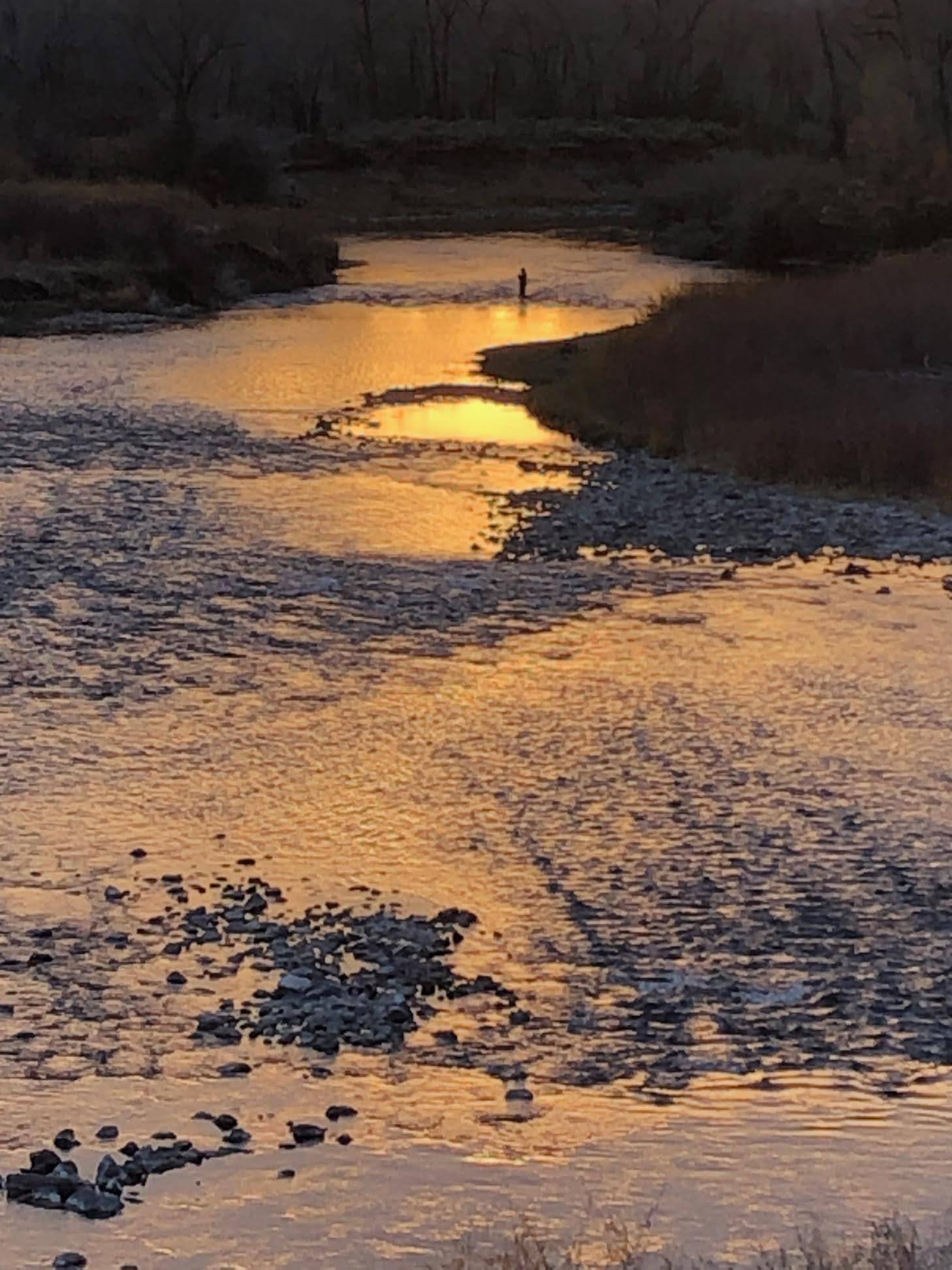 Photo by Don Girard (Calvin catching ALL the browns)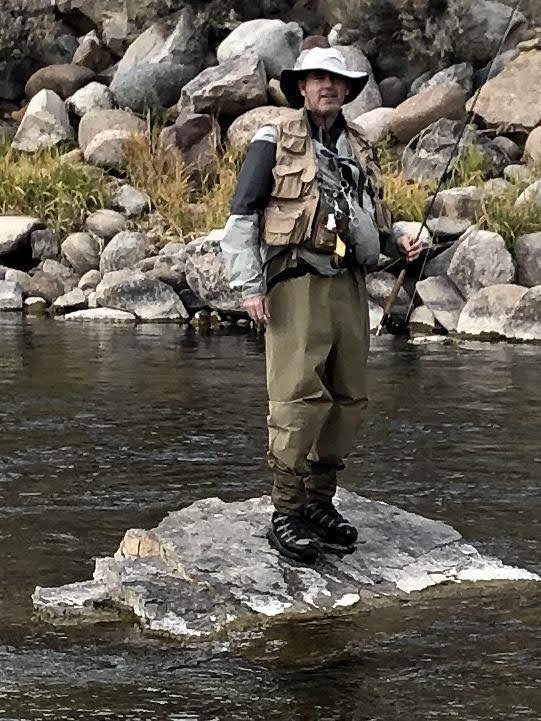 David LaValley looking good on the river! (Photo by Don Girard)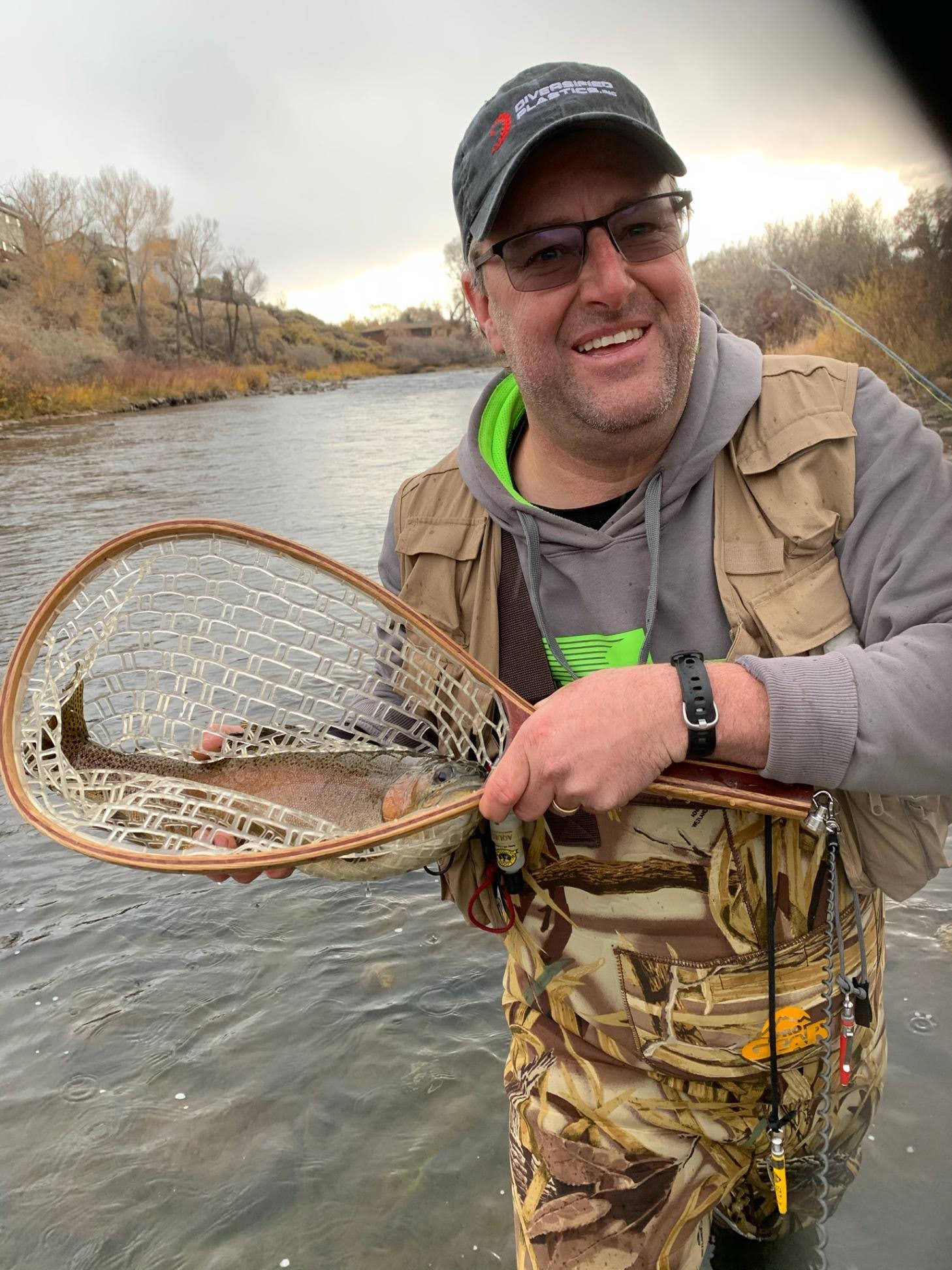 Tom's mic drop! He was off the water right after this picture! (Photo by David LaValley)
---
overall rating:
my rating:
log in to rate
Please log in to leave a comment.