Anticipation of a New Season of Fly Fishing.
David Chao Shares His Thoughts on the Upcoming Fly Fishing Season.
by Mike Ryan • March 28, 2019 in Writings by Our Customers
---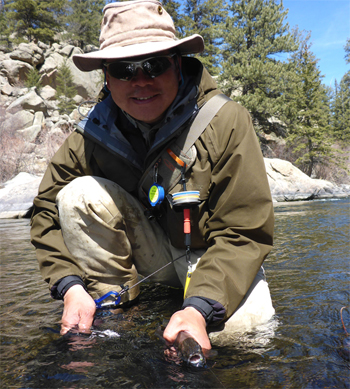 Written by David Chao:
I still can't sleep the night before I go fishing. Ever since I was a little kid, when I knew I was going to do something exciting the next day, I couldn't sleep the night before. I used to get excited playing in a baseball game, or skiing, playing golf and NOW, fly fishing. I know that I won't get a lot of sleep, even though I'm not a kid anymore. Fly fishing still feels like an awesome adventure. I try to stay busy and not think too much about the next day of fly fishing. I go over my all my stuff from my last trip. I check my leader to make sure that I haven't cut it down to a stubby 4 feet. I put a new one on and I tie on the tippet at the house because well… its' warm and I'm not in the rush that I normally am to get on the water. I can take my time, and I can try to tie a good knot. When I do it on the river, sometimes my hand shakes. Forget it if there is a hatch going! I check all my flies, split shot and strike indicators to make sure that I have them and put them back in the same place. The worst part is when I don't have the flies that I need, or split shot or floatant. I changed to a waist pack this year and it has different pockets. You know that feeling when you think you know where you put the tippet material, only to realize it's not in the same place? Muscle memory is real and when I change a piece of gear, it always takes time for me to figure out where everything goes. The panic of not having what you need, when you need it is especially bad early in the season.
I pack the car the day before and make sure I have my wading jacket, hat and sunglasses right where I can remember them. I've forgotten them in my haste to get out the door first thing in the morning. In the winter, here you in Colorado, you don't have to be on the water before 10 a.m. They (the experts!) say it's a waste of time and you will just get cold. I don't care! I want to be out and standing in the water - even if that means the I see some Icey slush float by. Plus, if you fish some of our more popular water, you better be there early!
I pack a lunch if I have stuff to bring or plan on stopping by the supermarket to get a sandwich. I ALWAYS hit a McDonalds or Chick-Fil-A on my way to the water. I don't want to sit around in the morning to have breakfast. I eat in the car and slurp my coffee. Waking up isn't the problem for me, even with bad sleep. It is time to fish. Friends who fish with me eventually realize that I like to be early. Early is on time, on time is late. If I'm driving, then I know where everything goes. The rods go into my rod holder, my wet bag holds all my gear, food in the refrigerator (yeah, I have one in my Land Cruiser) and I'm ready to go.
I'm lucky if I take time to eat a lunch. I'll sometimes go to the river with my lunch and sit on a rock and eat. I don't really care if I catch anything (O.K. that's not entirely true!) because my home water is really pretty. It sure beats a day at work! After an amazing day of fishing - catching or not catching - I pack up to go home. I'm tired, usually a little hot and a little sore. My body doesn't quite like hopping from rock to rock anymore or walking out of the canyon. I put my rod away, leave the boots on the floor in the back seat with my waders and head home. Always happy and tired. I get home, rinse my boots and waders and put them in the garage to dry. I try to make a mental note of what I needed or forgot so that I can hit discountflies.com and order but I usually forget.
Another day on the river is over, and I'm always a little sad and thinking of when I can go out again. It's that time of year, when the river is calling for you. You can feel it in the slightly warm breeze, you can see it at the first sign of bugs in the air and you can hear it. The calling of the river, keeping you awake at night, in anticipation of that feeling of walking into the water and throwing your first cast.
I know there are plenty of folks like me, who just can't sleep when it's time to fly fish! I guess I'll sleep again when the rivers are frozen solid.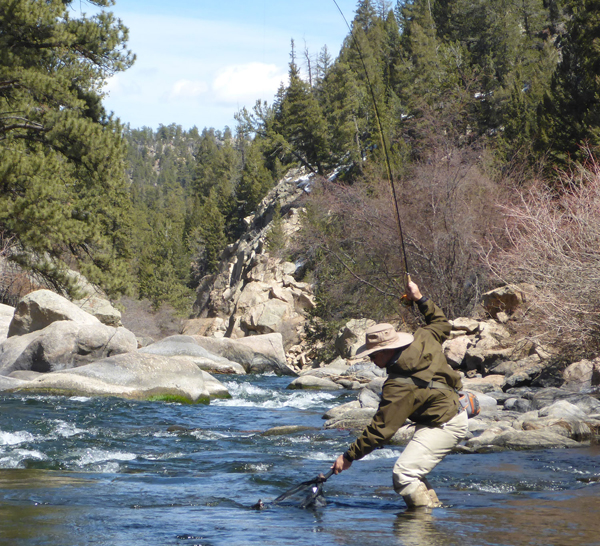 ---
overall rating:
my rating:
log in to rate
Please log in to leave a comment.